The Merriam-Webster dictionary describes the word clutter as "a crowded or confused mass or collection." Not only is clutter itself described as a mass, it can also cause massive repercussions in your life.
Clutter in your home can cause you to experience anxiety and stress, which effect you both physically and mentally. It can effect your ability to focus, concentrate, be productive, sleep, and more. It can also effect your relationships with people inside and outside of your household.
Needless to say, the list of reasons as to how clutter can negatively effect you could go on, but instead of focusing on the negative, let's focus on the positive.
When your home is free of clutter, you feel better overall. Decluttering takes a weight off of you not only physically but also mentally.
It also helps you feel more capable and confident, like you can tackle anything you set your mind to. Plus, it will positively impact all areas of your life.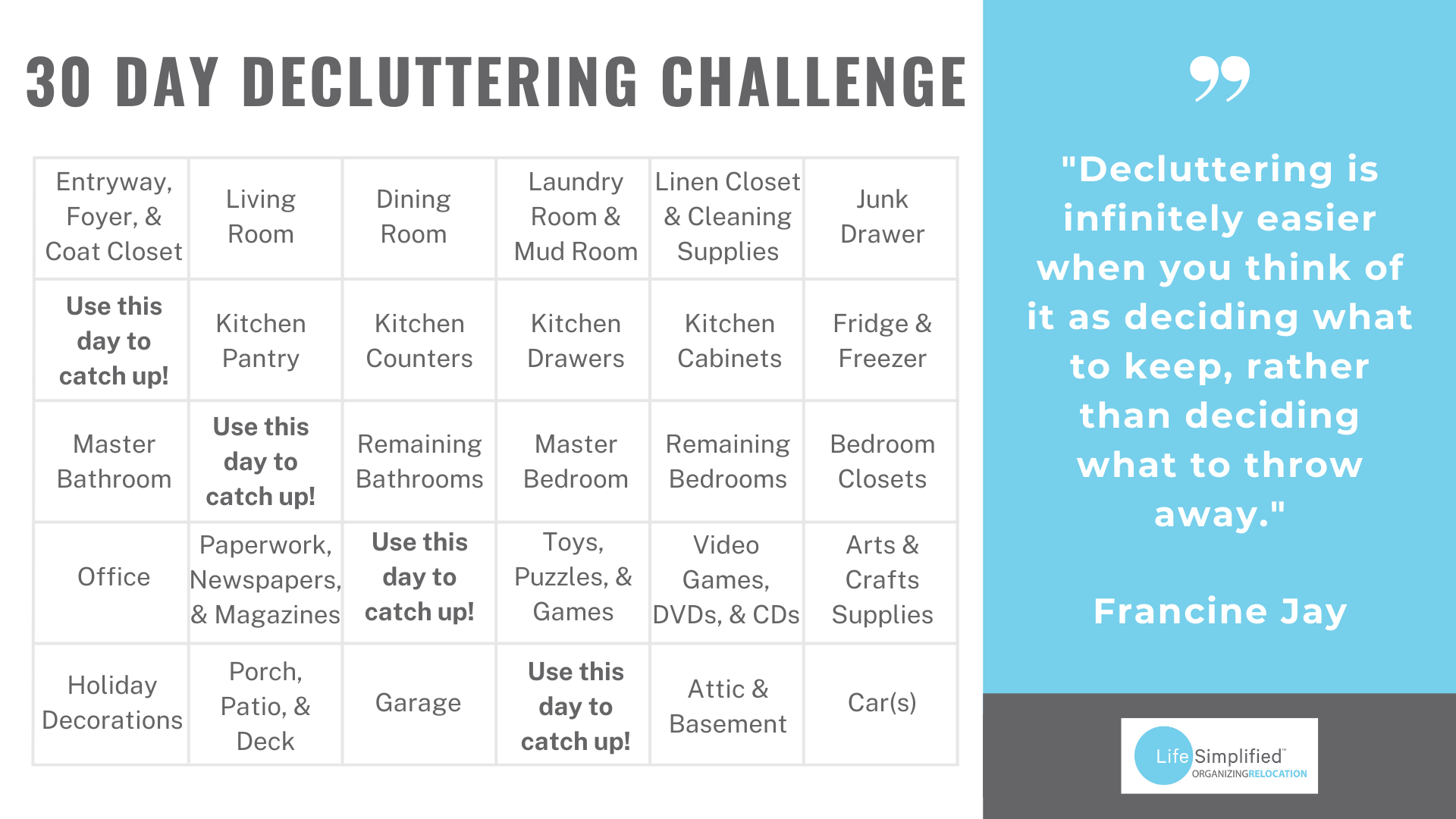 We created an easy to follow 30 day decluttering challenge to help you tackle the clutter in your home. We encourage you to work at least 15 minutes on each space or set multiple 15 minute increments to allow yourself breaks while working for longer periods of time.
We know how overwhelming this might be for you, so we also factored in breaks throughout the 30 days to allow yourself time to breathe and catch up if you feel behind.
Throughout the 30 days, we want you to keep a few things in mind…
1. Things are going to get worse before they get better.
As you are pulling out items to sort them, the space may begin to feel even more cluttered and chaotic. That's okay… and expected. Don't let yourself get overwhelmed. Remember the big picture.
2. Decluttering takes time.
Decluttering your home won't happen overnight. It is a process that requires patience. Remind yourself this every day and don't be afraid to give yourself some grace.
3. Any progress… is progress. Celebrate small victories!
Don't set unattainable goals for yourself. After all, that may be why things began to get cluttered in the first place. If you feel discouraged about where you are at, remind yourself of the steps you've taken so far to declutter your home.
4. Don't put pressure on yourself to perfectly follow the guide we created for you.
There may be some who don't have rooms listed on the guide or have rooms that aren't listed on the guide. Modify it to best fit your needs. This guide is there to support and encourage you, not cripple or discourage you.
We want to encourage you to take on the challenge to declutter your home and see what you are able to accomplish. You will be amazed at the effects it will have on you.
If you or someone you know needs help decluttering their home, contact us or call 256-316-1655 to schedule a consultation. Our team would love to help you like we have helped countless people across North Alabama simplify their lives.